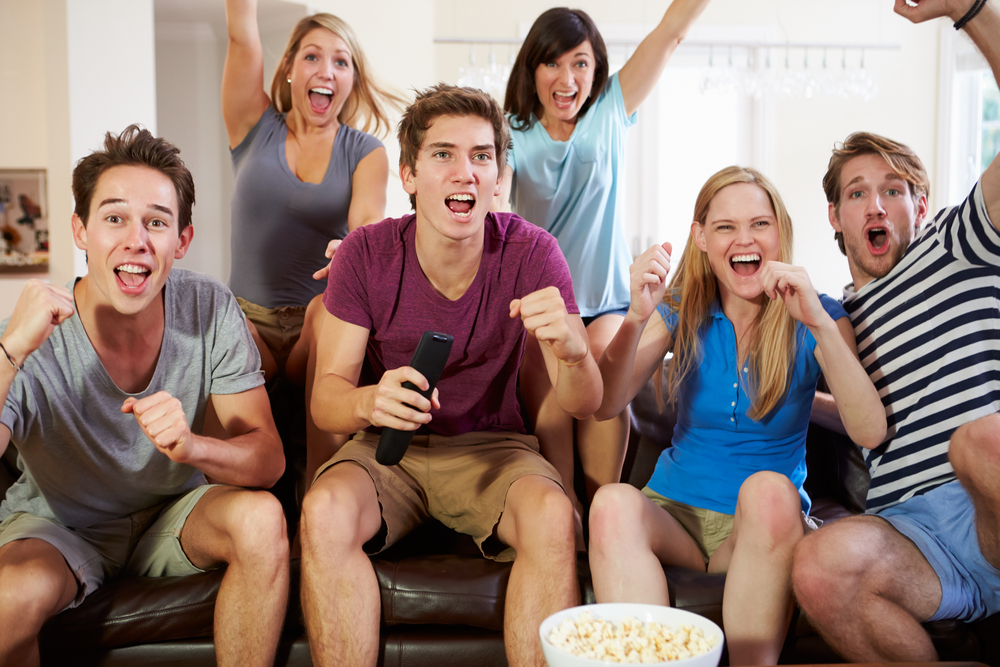 For football fans, fall is the most exciting time of the year! September looms in the near future as a harbinger of friends, game day seven-layer dip and favorite teams going head-to-head for the ultimate bragging rights. A cool, crisp scent lingers in the air as if calling sports fans back into their homes to relax in easy chairs and rest weary feet on a comfortable ottoman before turning on the big game. For football fans, fall is more than just the start of a season: it's an experience. Boston Closet Co. understands the importance of sports in the American tradition, and our goal is to create custom entertainment centers so each and every football fan can enjoy their favorite teams in an organized space with all their friends and family.
Envision your living room as a central gathering point for guests to cheer on their alma mater and root for the best players to dominate the field. The right entertainment center design pulls a room together and stands out as the centerpiece for the ultimate man cave. Crack a beer, kick back, and put your worries on hold until after the Super Bowl; Boston Closet Co. has your home décor and living room storage needs covered so you can get back to enjoying the game.
Our professional team works hard to streamline the design and installation process. Homeowners frequently have an idea of what the room in question should look like, but don't always know the extent of options available. Our interior design experts arrive on time for appointments and discuss your options in relation to your space. In many cases, our experts are able to double or triple the amount of living room storage available with custom cabinets and shelving.
Gone are the days of tangled cable cords, missing remotes, and stacks of magazines littering the coffee table. DVD players, CDs, children's toys, and modems fit easily into storage solutions created by our experts. We listen to your needs and desires to create a custom storage unit that fits your lifestyle so game day can become more than just a day in front of the television. Boston Closet Co.'s organizer design is unmatched by competitors and gives your room a sleek, finished look perfect for hosting game day parties and entertaining friends.
The benefits of owning a Boston Closet Co. custom entertainment center are endless! Cluttered rooms frequently lead to lost objects, stubbed toes and a feeling of being "crammed" into your own home. Unnecessary time is lost dealing with clutter and miscellaneous items that simply do not fit into your home. While minimizing the number of items in your house is one solution that frequently benefits those suffering from clutter, it is far more likely a custom shelving unit or cabinet space could solve your problem. When clutter disappears, your living room becomes a hub of excitement and fun just in time for football season!
Never be embarrassed to invite company over again. Prepare for upcoming festivities and gatherings by creating a safe, clean space for your family and friends to enjoy the fall season and friendly competition. When you put effort into your home design, your routine and overall perceptions of your home improve. Here at Boston Closet Co. we believe quality isn't expensive – it's priceless. Call or click today to schedule your free in-home consultation with an interior design and custom storage expert.