For folks who are looking to take their storage space to the next level with a walk-in closet design that's meticulously planned and tailored to fit your unique and vibrant lifestyle. Say no more. Whether you desire eye-catching layouts, state-of-the-art storage solutions, or savvy organization tactics, Boston Closet Company is your go-to for all your walk-in closet needs.
Our expert designers are ready to offer a FREE in-home consultation, paving the way for a walk-in closet that isn't just practical but also breathes sophistication into your space.
Beyond designing luxurious walk-in closets of all sizes Boston Closet Company also specializes in crafting custom organizers for all various nooks and crannies in your space ensuring that every single precious inch is utilized as usable space to make your life easier. Design the walk-in closet system of your dreams with the help of our experienced Boston Closet team. We can help you choose the right layout and accessories for all your needs, including:
Slanted shoe shelves

Lockable, velvet-lined jewelry drawers
Sliding pant and tie racks
Islands with extra drawer space

Fold-away, full-length mirrors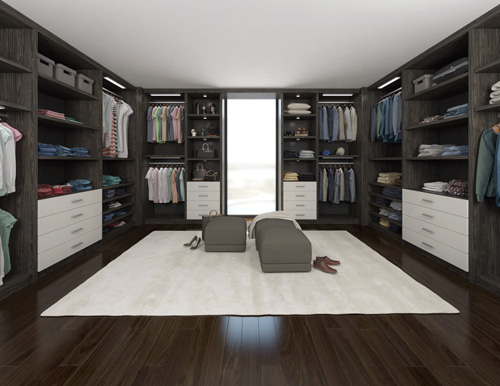 What is a walk-in closet?
In simple terms, a walk-in closet is a storage space where you can literally walk inside. Unlike traditional wardrobes or closets that have a limited depth and width, walk-ins provide ample space to store and display clothing, shoes, and accessories.
Key Features of Walk-In Closets
Space: By definition, a walk-in closet provides enough room for an individual to enter, browse, and access their belongings with ease. The sheer size of this closet type allows for greater organization and storage potential.
Organization: Fitted with a variety of storage solutions like racks, shelves, drawers, and hanging spaces, walk-in closets ensure that everything has its designated spot, reducing clutter and creating easy access.
Personalization: One of the standout features of walk-in closets is the ability to customize. Homeowners can tailor the interiors based on their preferences, whether that's by adding a luxurious chandelier, a makeup vanity, or even a seating area to relax and try on shoes.
Enhanced Privacy: Many walk-in closets are designed to be an extension of the master bedroom, providing a private space for dressing and personal care, separate from the main sleeping area.
Value Addition: Beyond functionality, a well-designed walk-in closet can add significant value to a home.
The Essential Components of Walk-In Closets
What makes a walk-in closet truly effective and unique? Here are the essential components that every top-notch walk-in closet can include:
Adjustable Shelving: The beauty of adjustable shelves lies in their flexibility. Whether you're storing tall boots, stacks of sweaters, or your collection of hats, these shelves adapt to your needs, ensuring optimal use of space.
Hanging Areas: Different clothes require different hanging spaces. Segment your hanging areas into two or three tiers: one for longer items like dresses and coats, another for shirts and blouses, and perhaps a third for pants or skirts hung from the cuff.
Drawers: Hidden storage is vital. Drawers are perfect for items like undergarments, socks, belts, or even jewelry. Opt for soft-close features for a touch of luxury.
Island: If space allows, an island can be a game-changer. It serves as additional storage, a place to lay out outfits, or even a spot to fold clothes. Top it with a durable and stylish countertop, and consider adding a charging station for your devices.
Shoe Racks or Cubbies: Give your footwear the attention it deserves. Whether you opt for slanted shelves, cubbies, or even a rotating shoe rack, ensure there's ample space for every pair.
Lighting: Never underestimate the power of good lighting in a closet. Recessed lights, chandeliers, or even LED strips can make a significant difference, illuminating your wardrobe choices and adding a touch of elegance.
Mirrors: Full-length mirrors are a must. They not only let you check out your outfits from head to toe but also reflect light, making the space appear bigger.
Accessories: Consider adding smaller components like tie racks, scarf hangers, or jewelry organizers. These not only keep items in their place but also add a touch of personalization to your space.
Ventilation: A well-ventilated closet ensures that your clothes remain fresh, preventing mold and musty odors.
Seating Area: Whether it's a plush ottoman, a chic chaise, or a simple stool, a seating area adds functionality and a touch of luxury.
The Benefits of Having a Walk-In Closet
Let's dive in and learn how having a walk-in closet is more than just having an extra space to store your clothes.
Maximizing storage space
A well-designed walk-in closet maximizes every inch of space. It's not just about hanging rails and shelves. Think pull-out drawers, shoe racks, and even islands with drawers.
Increasing home value
Did you know that a walk-in closet can boost your home's resale value? Potential buyers often view these closets as a sign of luxury, making your property more attractive.
Personalized organization
Ever tried finding that one tie or scarf in a jumbled closet? With a walk-in, everything has its place. Customize it to your needs and never lose anything again!
Boston Closet Company for Walk-In Closet Designs
Our walk-in closet systems, meticulously designed for residences in Boston and across Massachusetts, seamlessly align with any décor style. But it's not just about looks – it's about making every inch count. We take our job seriously, crafting storage tailored just for you.
You know, it all started with a simple love for closets. But guess what? Now we're dabbling in so much more! From garages and mud rooms to those cozy man caves and bustling home offices — we've got it all covered. Let's not forget about pantries, laundry rooms, and those awesome entertainment areas that allow for a moment of relaxation. Got a tricky corner in your house that's just gathering dust? Or a space you thought was a lost cause? Give us a shout at 617-628-1150 or drop a line to our friendly designers. Let's chat over a free consultation or get you a virtual quote. We're all about making every inch of your home truly work for you.
Walk-in Closet FAQs
How much is an average walk-in closet?
The cost of an average walk-in closet can vary based on size, materials, and customization. Basic walk-in closet designs can cost far less than a more luxurious design with high-end materials and custom finishes. It's essential to get quotes based on your specific requirements and preferences.
What is a good size walk-in closet?
A good size for a walk-in closet depends on individual needs and available space. However, for a functional walk-in closet for single-person use ideally should have a minimum of 4×4 feet and for two people, at least 10×10 feet. Remember, these are just guidelines. The best size is one that caters to your personal storage needs and fits comfortably within your home's layout.
Where is the best place to put a walk-in closet?
The optimal location for a walk-in closet is directly adjacent to the master bedroom, providing immediate access to clothing and personal items. Often, homeowners find it functional to position the walk-in closet between the master bedroom and the ensuite bathroom, creating a seamless transition from sleeping to dressing to grooming.
Does adding a walk-in closet add value?
Yes, adding a walk-in closet can increase the value of a home. Walk-in closets are often seen as a desirable feature, offering enhanced storage space and organization. Many homebuyers appreciate the luxury and convenience they provide. While the exact value addition varies based on the home's overall size, location, and market conditions, a well-designed walk-in closet can make a property more attractive to potential buyers, potentially leading to a higher selling price.
Can I convert an existing room into a walk-in closet?
Absolutely! Many homeowners convert spare rooms or even small spaces into functional walk-in closets.