Are you tired of your reach-in closet system being a disorganized mess? Don't worry, we've got you covered! There are vast options to truly utilize every inch of your reach in closet in a way that works for you and your lifestyle. From customization options, innovative storage solutions, and organization hacks, Boston Closet Company uses their custom storage solution expertise to craft a reach-in closet configuration that includes accessories like rods, shelves, and drawers to maximize your space.
Boston Closet Company's professional designers offer a FREE in-home consultation to build a beautiful-looking, fully customizable reach-in closet
In addition to luxury reach-in closets for bedrooms of all shapes and sizes, Boston Closet Company also constructs custom home organizers for many other areas around the house, including, but not limited to:
We also build entertainment centers!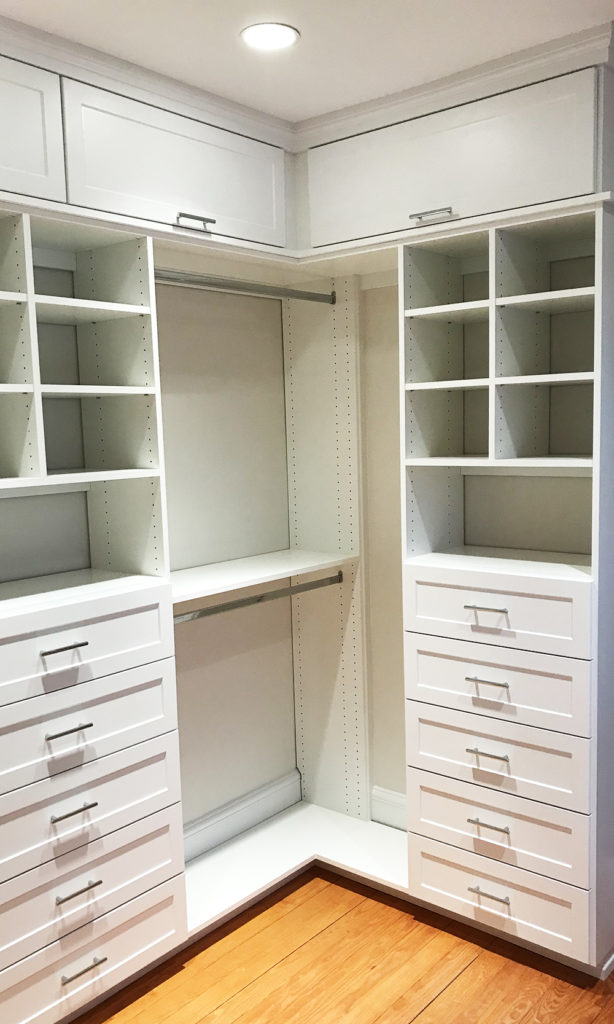 Essential Components of Reach-In Closets
Maximizing space in your reach-in closet starts with a solid foundation. consisting of three essential components: hanging space, shelving solutions, and drawers and accessories. These components work together to create an organized and efficient custom closet system that makes it easy to store, access, and manage your clothing and personal items.
Having rods for hanging clothing is an essential element for a custom closet system. It should occupy most of the space. Along with that, shelving and drawers can provide additional abilities to store items like undergarments, socks, and jewelry. Both storage items and space should be considered during the design process for a reach-in closet, as well as how to create useful extra storage.
Incorporating drawers, baskets, bins, dividers pull-out trays, and hooks in your reach-in closet design can also reduce the need for bedroom dressers and provide additional storage for items like undergarments, socks, and jewelry.
Some of the accessory customization options to help make your reach-in closet as functional as possible are:
Shelves
Hanging Rods
Drawers
Baskets
Hampers
Racks
Dividers
Hooks
Bins
Customizing Your Reach-In Closet
To make your reach-in closet truly your own, it's important to customize it with materials, finishes, and hardware that match your personal style and needs. In the following sections, we'll explore the options available for material selection, as well as the finishes and hardware that can add a touch of personal style to your closet design. Materials come in a variety of styles and colors, and can be used to create a unique product.
Material Selection
The material you choose for your reach-in closet can impact both its durability and appearance. Common materials used for reach-in closets include natural wood, engineered wood-based products, laminate shelving options, and more. To choose the best material for your closet, consider the desired look, durability, and your budget.
Finishes and Hardware
Finishes and hardware can add a touch of personal style to your closet design. There are various hardware options available, including functional hardware for easy access and organization, as well as stylish hardware for enhancing the overall aesthetic of the closet.
Innovative Storage Solutions for Small Spaces
When space is limited, it's essential to make the most of every inch. Innovative closet ideas for storage solutions in small spaces include multi-functional furniture, vertical storage, and utilizing door space. These solutions can help you maximize storage and organization in your reach-in closet, even when space is tight.
Multi-Functional Furniture
Multi-functional furniture, like built-in drawers, can save space and reduce clutter in a small reach-in closet. By combining a dresser with shelving and a rod, you can create a cohesive and organized storage system that utilizes every bit of available space.
Built-in drawers can significantly increase closet storage capacity in your reach-in closet, allowing you to store items that would otherwise take up valuable hanging space, such as folded clothes, shoes, and accessories. Plus, drawers provide easy access to items stored in the back of the closet, making it a breeze to find what you're looking for.
Vertical Storage
Vertical storage, such as hanging rods and shelves, maximizes space in a small closet by utilizing the full height of the closet. Some different types of vertical storage for small spaces include:
Wall-mounted shelves
Hanging organizers
Vertical pegboards
Behind-the-door storage
Tension rod storage
Vertical shelving units
When using vertical storage, it's important to make sure that items are stored in an organized manner and are easily accessible.
Utilizing Door Space
Utilizing door space with hooks, racks, or pockets can provide additional storage options in a reach-in closet. By making the most of the door space, you can store items like scarves, hats, and accessories without taking up valuable space in the main closet area.Various storage options can be used to utilize door space, such as hooks, racks, or pockets.
Reach-In Closet Organization Tips
To keep your reach-in closet functioning at its best, it's essential to follow some basic organization tips including routine clean-outs, grouping similar items, and using labeling and storage containers to help maintain a well-organized and efficient closet.
Routine Clean-Outs
Routine clean-outs are essential for keeping an organized and clutter-free closet. It's recommended to perform routine clean-outs at least once a month to maintain a tidy and organized space.
During routine clean-outs, follow these steps to declutter your reach-in closet.
Remove items that are no longer needed or worn.
Store these removed items in a designated area, such as a storage bin or box, to keep them separate from your current closet contents.
Regularly declutter your reach-in closet to ensure that it stays neat and organized.
This will make it easier to find and access the items you need.
Grouping Similar Items
Grouping similar items in your reach-in closet makes it easier to find what you need and maintain an organized space. Some ways to group similar items include using storage solutions like bins or dividers and arranging clothes by type and color. By keeping similar items together, you can streamline your morning routine and make it easier to locate the items you need. This not only saves you time, but also helps maintain a neat and clutter-free closet.
Labeling and Storage Containers
Labeling and storage containers are essential tools for keeping items organized and easy to locate in your reach-in closet. Various labels and storage containers are available, including:
Clear labels
Clip-on chalkboard labels
Round chalkboard tags
Professional organizers' recommended storage bins, baskets, containers, crates, and boxes
Boston Closet Company for Custom Closets
The Boston Closet Company is not a franchise; we are family- and locally owned, offering home storage solutions since 1976. During that time, we've developed, perfected, and shared our innovative storage solutions with the goal of providing more usable space to anyone with a Boston Closet Company storage solution.
If your current closet has seen better days and you want something more sleek and modern, perhaps featuring pull-out shelves or custom drawers, we can help. Our skilled closet organizer designers can make your reach-in closet dreams a reality. No job is too time-consuming for our team and we believe in complete customer satisfaction with each project we complete.
Our reach-in closet set-ups are designed to match the décor of the room and will help to streamline your wardrobe-based decisions, reduce clutter, and maximize unused areas around the home.
Closets were our first passion, but now our areas of expertise also cover garages, mud rooms, man caves, home offices, pantries, laundry rooms, entertainment centers, hobby centers, storage rooms, and much more. If there's an area of your home that needs organization, or you have "unusable" space, call 617-628-1150 or contact one of our professional designers to receive a free, no-obligation consultation or virtual quote today.
Reach in Closet FAQs
What is a reach-in closet?
Grab-and-go with a reach-in closet! This common type of closet is usually equipped with a swinging or sliding door and allows you to quickly locate and grab whatever you need.
Reach-in closets are great for those who need quick access to their items. They are also great for organizing items, as they can organize items.
What is the average size of a reach-in closet?
If you're looking for an ideal closet for one, a reach-in closet of approximately 6-feet by 8-feet is the perfect option! With its 80-inch high door opening and 24-inch depth, it's an ideal space for your everyday needs.
What is the best depth for a reach-in closet?
The best depth for a reach-in closet is 24", which allows space for storage items and bulkier clothing items such as winter coats. This standard depth ensures that you can comfortably access the items within your closet without stepping inside.
What is the standard reach in closet system?
The standard reach in closet system has a depth of 24-inches and an opening height of 80-inches for practical use by a single occupant. It is designed with various door types including sliding, bifold and pocket doors.
These doors can be customized to fit the user's needs and preferences. They can be made from a variety of materials such as wood, metal, and plastic. Additionally, they can be painted or stained to match the user's decor.
What are the essential components of a reach-in closet?
A reach-in closet requires the essentials: plenty of hanging space, shelves and drawers, and organizational accessories to maximize storage.