Residential Design
Boston Closet offers custom interior residential design services that are sure to delight clients throughout Boston. We have many years experience in the industry, which allows our team to provide a tailored and high quality service like no other that will give your home the beautiful and practical touch it needs. We will make your home more practical, beautiful, and comfortable – all you need to do is give us a call.
Office Design
Perhaps your office needs a special touch that only Boston Closet can provide. We offer office design services for those who may need more storage space, or simply a more practical design – we understand how important it is to maximize and utilize space in any office, and that doing so can save you both time and money. Let us help you with our array of expert services and you won't be disappointed!
Commercial Design
Need a closet design for your hotel, apartment, or another commercial area? We can help! At Boston closet, we offer a tailored commercial design service that will blow your clients away. Whether you're looking to impress your overnight hotel guests or you want to create something special for your retail store, Boston Closet has you covered.
Award Winning Closet Designs
Do you need a special walk-in closet to store all of your precious forever-clothing pieces? Perhaps you simply want a place in which you can get ready for the day in peace – or maybe you want a functional closet for your commercial space. Our closet designs have won awards for their beautiful aesthetics, functionality, and quality and we are proud to offer a high quality of service to each and every client that makes the decision to work with us.
Whether you need a functional walk-in closet or a space purely for entertainment purposes, we are happy to work alongside you and help you to design your dream space. Our team will take your needs and wants into account so we can create the perfect space that you will get the most use out of and enjoy forever. Whether you're looking to add a closet to your home, office, or commercial space, we can design something that exceeds and surpasses all expectations and fits your budget perfectly. Just contact us today to get a better idea of what we could do for you!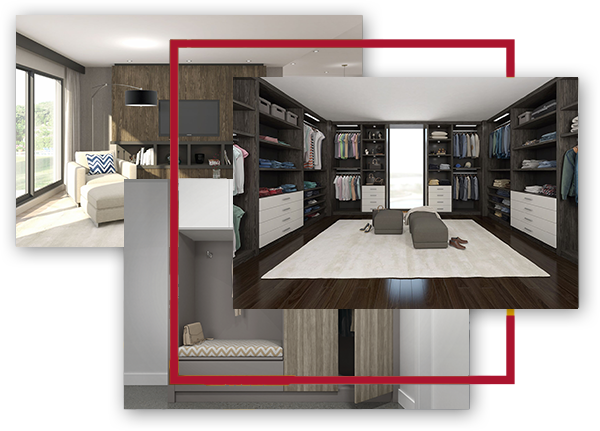 We can customize your
closet
laundry room
mud room
man cave
entertainment center
storage room
pantry
office
garage
Meet & Agree
First, we will meet and discuss your needs, making sure that we are on the same page and that our vision for your custom design is in alignment. Once we have agreed on the design that is best for you and your home, we can move on to the next stage.
Idea & Concept
This is the stage where we begin fleshing out our ideas from the initial stages and bring them to life. You'll get a good idea of what to expect during the finished stages at this time.
Design & Create
Now we design and begin to create the concept that you have given us the go ahead on, making sure it fits your exact needs, wants, and specifications. We won't cut corners and will ensure everything is as it should be to the letter.
Build & Install
The final stage of our process is building and installation. We begin to build and put the final touches to the design, before installing it for you so that it is ready for you to use immediately.
What are clients are saying…