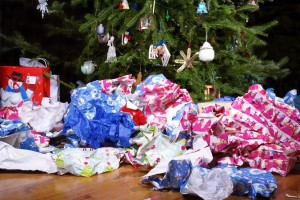 Does the chaos that ensues during this time of year tend to overwhelm you and your family? The hustle and bustle of holiday season has a way of causing disarray at home. At Boston Closet, we understand how important both celebration and family time are, especially toward the end of the year. However, that does not mean a maintained and relaxed residence must be sacrificed. Gain control of your home this winter and prevent stress from getting in the way! Check out these tips on how to stay organized this holiday season to relieve a little pressure.  
Kitchen
Along with the holiday season comes more sweets, treats, and home cooked meals. The frequent gatherings of friends and family means hungrier stomachs that need to be fed. Whether for Thanksgiving or Christmas dinner, the fridge and pantry tend to get packed. The kitchen overflows with foods waiting to be prepared. In order to keep a handle on this, consider adding adjustable shelves, baskets, and pull-out trays to the pantry. This will help provide more storing solutions and keep the food items organized by groups (condiments, vegetables, canned goods, etc.).
Garage
Garages are used for many purposes. Not only do they offer a safe place for the car, but for all storage needs as well. Garages are a great place to hide gifts before they are opened, store fall and winter decorations, hold tools, and more. To make all of this more accessible to ensure that, yes, a car will still fit in the garage space, consider these tips! Add a pegboard to the wall to hang items. This will prevent floor space from being consumed. Additionally, add a bike rack for the same reason. Not only can the walls be utilized, however, but the ceiling can as well. Hang items that can be safely secured.
Closet
Transitioning from summer to fall and then winter means quite the wardrobe change. To avoid a winter flooded with bulkiness, try these adjustments. Add a slanted shoe shelf that will accommodate to closed-toe shoes and winter boots. This will help keep track of all the different pairs so they are easy to see and find. Then, consider a belt and tie rack that can also store scarves and hats. A rack like this will help conserve shelving space that can be better used for sweaters or pants. Finally, try adding cubbies and baskets for extra storage.
Holidays should be a time of pure enjoyment. The gathering of family and friends is a special one that should not be tainted with the stresses of house maintenance. Make the season easier with these extra storage items and techniques! Contact us at Boston Closet for more ideas on staying organized the easy way this season.