If like many people you struggle with overflowing shoes in your closet, it may be time to invest in a better, quality shoe storage solution. But, with many different choices available today including racks, custom-built, and shoe cabinets, it is possible to find the right solution to suit both your budget and space.
Let's have a look at some of the great shoe organization solutions there are in 2021:
Custom Storage
This is an option that many people are now choosing in 2021, customer storage solutions, and not just for shoe organization. As well as serving as a fantastic shoe organization solution, they also offer people much-needed additional storage in many different rooms of their homes. Because the storage is built for purpose, the designs can be adapted to suit the exact needs and budgets. Custom storage is also popular amongst celebrities such as NBA superstar and Boston Celtic, Kemba Walker who recently had his shoe collection looked after by Boston Closet.
Under Bed Storage
If you don't have the room for a shoe rack in your closet or a dedicated cabinet then under-the-bed storage is ideal. No, this doesn't just mean shoving your footwear under the bed and needing to root around to find a matching pair. You can now get specially designed storage solutions that are perfect for under your bed. In 2021 they are more durable than ever before and allow you to store a huge range of footwear from single pairs through to winter boots.
Storage Bench
If you are one for kicking your shoes off as soon as your walk through the door, then the convenience of a storage bench is a great choice for the entryway in your home. This sturdy option offers you an open shelving solution, where you can line up pairs of footwear, some designs even enable you to sit on top for when it's time to head out again. They are usually lightweight enough to move around to where you need them, some people even use them as extra storage in the bottom of their storage cupboard. They may be a basic solution, but they certainly do the job.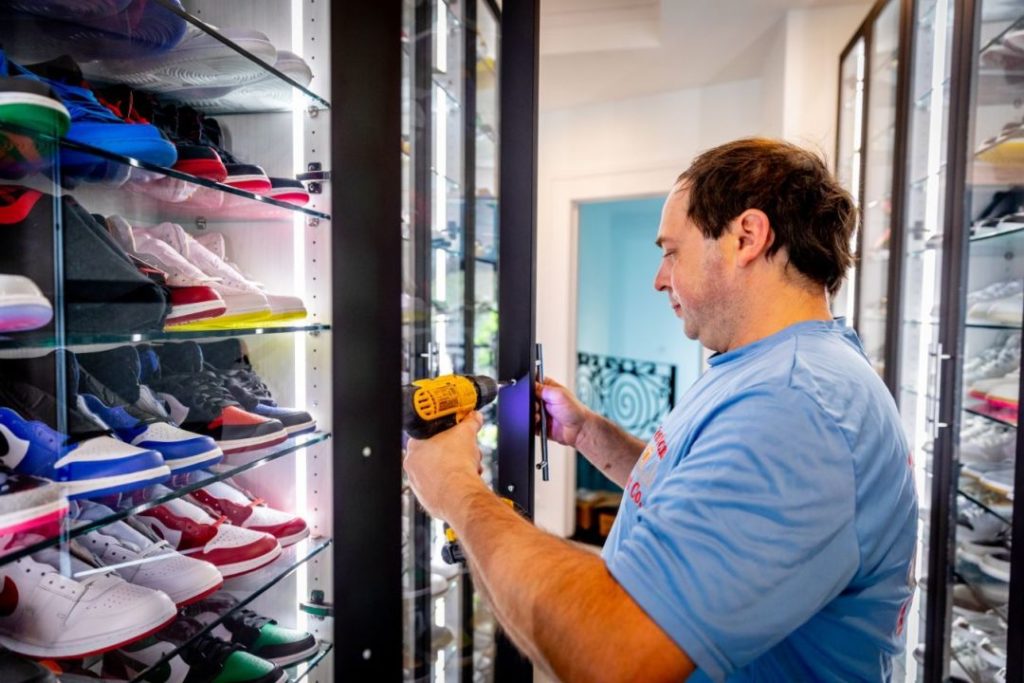 Over The Door
If you are limited on space, then a traditional shoe rack may not be the best choice. However, an over-the-door shoe organizer will do the trick. This is a handy shoe storage solution and is ideal for small spaces. It is designed to be hooked on the back of any door and they usually hold around 36 pairs of shoes. They are durable, and they can usually be used on any door.
Individual Boxes
If you are searching for a sho organization solution that is simple to scale and can slot inside your closet, then individual boxes are perfect. They can accommodate most shoe sizes and types and can easily be slotted into small, unused spaces in your existing closet. Because they are clear, it is easy to locate the pair that you need, when you need them. A lot of people have shoes that are only worn for 'best' wear, if you have shoes like this, you usually want to take extra care of them. These boxes are perfect for the shoes that you want to keep for the best and only wear once in a while. They may be a simple organizational solution, but they are certainly an effective one. Because they stack on top of each other, you can easily store them on the floor, on a shelf, you name it. They are durable and therefore should last you years to come. If you have boots or tall shoes, you can even get boxes to accommodate.
Cupboard Shoe Rack
If your shoe collection is on the larger size you are going to need a larger solution. One way you can organize them is to use a cupboard shoe rack. They are simple to the shoe rack spoke about above, however, they are taller and therefore can accommodate a lot more pairs of your shoes. They can take up a fair bit of space, so it is best to make sure you do have a cupboard that will fit in before you buy. If you want to hide away or your shoes and have them in easy reach at the same time, a cupboard shoe rack can provide an easy solution.
As you can see there are many shoe organization solutions for all kinds of needs, what matters is choosing the right one for you. If you want to know more about storage solutions and how Boston Closet can help you contact us today.