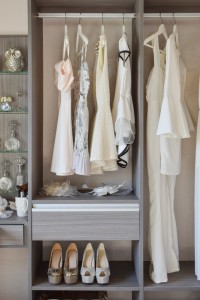 Is your New Year's resolution to get organized in 2016? Your goal might be far more attainable then you ever thought possible. Before setting general goals, it's best to determine why you want to have a clean living space. Do you want to:
Access your clothes more easily?
Create more storage space?
Keep clutter off the floor?
Showcase your shoe collection?
Increase the value of your home with upgrades?
All of the above?
Now that you've established specific goals, you'll want to make organization easier for yourself. To do this, it is necessary to go through your things and determine what can go. Make three piles: toss, keep, and put away (seasonal items). A majority of people in the U.S. have at least one shirt with sentimental attachment, but try to be objective about what stays and what goes. If you have not worn an article of clothing in over a year, the style is dated, or it simply does not project the image you are trying to convey, it's best to let the piece go. "Give away" clothing that is dropped off to a charity is tax deductible and will bring joy to someone else. Get in the giving spirit!
Once your wardrobe has been streamlined, it's time to make design changes that will increase the usability of your space. For custom closets, storage solutions, and closet organizers, Boston Closet Co. offers a variety of options for customers to choose from. Some of our best-loved custom bedroom closet designs in Boston incorporate:
Tilt-out hampers
Valet rods
Belt and tie racks
Sliding tie and pant racks
Adjustable shelves
Full length, fold-away mirrors
As for the clothes themselves, choose an organization system that works best for your life. Clothes themselves can be organized by color, length of the sleeve, type of fabric, or even by occasion. Many people separate casual shoes from work or dress shoes.
Closet organization in doesn't have to be difficult with Boston Closet Co.'s help! Click or call today to schedule your free in-home design consultation.
Tags : bedroom closet boston, closet boston, closet organization boston, closet organizer boston, custom closet design boston, custom closets boston, storage solution Boston