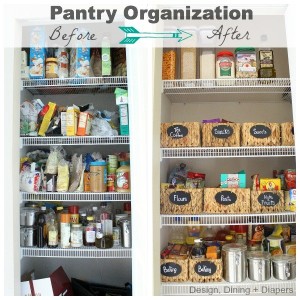 Tired of rummaging through your pantries in order to find a specific food? Put an end to the hassle with these useful organization tips. Boston Closet Co. provides all of the necessities and accessories to help transform your pantry from one of chaos to structure. Whether it is a new home with an empty pantry or one already filled that simply needs cleaning control, we are here to assist. When it comes to preparing a meal for yourself or family, make the process painless and easy by creating a friendly food storage system right at home. Try these simple steps:
Clean and dispose – Venture through the depths of the pantry that have been ignored. Rid the shelves of expired goods, stale breads and any other unused foods. This will provide the cabinets with a clean slate, ready for proper storing.
Personalize – A great way to avoid the clutter that comes from food storage is shelving. For instance, we provide a variety of organization techniques. This includes adjustable shelves, dividers, baskets, wine racks, turntables and more. Personalizing the different nooks and crannies of a pantry is important in order to create easy access for the chef. The more convenience, the better!
Establish areas – Categorize pantry foods so specific items are grouped together. For instance, place all baking goods in a basket. Organization is key to sorting foods. Another idea is to place all canned foods on the same shelf. Stack them from largest to smallest so they are easier to grab. Then, for items that are more likely to roll around, such as toothpicks or salt shakers, store them in a pull-out tray to stay out of the way of larger items.
Label – Often times, people tend pack loose nonperishables such as pastas or cereals in bags and containers. In order to remember which foods are what, try labeling. This will take any confusion out of the search.
Store with caution – When opening the pantry, it is essential to see all of your foods at once. Place the larger items in the back and the smaller items in front. We want the trip to the pantry to be quick, so everything should be visible and easy to grab.
This is only the beginning of recreating your kitchen pantry! Upkeep is just as important as the redoing. For more helpful tips and suggestions, contact us today. Boston Closet Co is designed to help transform your home storage areas.